The Northern Weekly Salvo
Incorporating  Slaithwaite Review of Books, Weekly Notices, Sectional Appendices, Tunnel Gazers' Gazette and Northern Umbrella. Descendant of Teddy Ashton's Northern Weekly and Th'Bowtun Loominary.
Published at 109 Harpers Lane Bolton BL1 6HU email: paul.salveson@myphone.coop
Publications website: www.lancashireloominary.co.uk
No. 277 March 11th  2020
Salveson's half-nakedly political digest of railwayness, tripe and secessionist nonsense from Up North. Sometimes weekly, usually not; but definitely Northern. Read by the highest (and lowest) officers of state, Whitmanites, weirdos, misfits, steam punks, yes women, no men, gay Swedenborgians, cat-spotters, discerning sybarites, bi-guys, non-aligned social democrats,  pie-eaters, tripe dressers, nail artists, self-managing VIMTO drinkers, truculent Northerners, grumpy Norwegians, absurd Marxists, members of the clergy and the toiling masses. All views expressed are my own and usually nobody else's. Official journal of the Station Cat Improvement Network, Pacer Dining Club and Station Buffet Society, and the Campaign for a North with a capital 'N'.
"We are far more united and have far more in common with each other than things that divide us." – Jo Cox, maiden speech in House of Commons, June 3rd 2015
General gossips
What a strange situation we're in. In the last Salvo I suggested that the spread of the corona virus could result in the destruction of world capitalism – and it certainly seems to be heading that way. Not sure it's anything to celebrate though, in the absence of anything better. As far as transport goes the virus may be more likely to stop people using buses and trains, preferring the safer, sanitised environment of a car. Good job I got that electric bike, which I'm making much use of in between downpours.
It's an excellent way of delivering orders for my novel 'The Works' – the market is quite local, largely, and a ride to Horwich is entirely do-able with the eee-bygum-bike. Tackling the climb up Chorley Old Road would have been too much without powered assistance, rear-end or otherwise.
The corona virus is likely to play havoc with any public events in the next month or two, maybe even longer. Hopefully the Rail Reform Group gathering in Manchester on the 19th and my book launch in the Wayoh Brewery on 20th (see below) might just be within the bounds of acceptable common sense before the shutters come down on public events.
Meanwhile, the Association of Community Rail Partnerships has announced a change of name – from April, it will become 'The Community Rail Network'.
Good move! It's a long time since we came up with the original name and the world has moved on. It was always a bit of a mouthful to be honest. The organisation is more than just 'community rail partnerships' and includes hundreds of local groups such as station friends and partnerships. In time, I hope other community groups will join as well without necessarily being 100% focused on rail.
Politics, debate, controversy
The Labour leadership election grinds inexorably on, is it just me who wishes the whole thing could just be over and done with? I'm increasingly exasperated by the lack of real politics in all of it. The best statement I've seen in the whole campaign was that from Clive Lewis which appears in the current issue of Chartist. What a pity he isn't in the final shortlist. I really wish Lisa Nandy would repeat, at high volume, a lot of the things she was saying in the book she co-edited with Caroline Lucas on The Alternative. All three contenders seem desperate to avoid saying anything that might upset one or other of the factions or tendencies that make up the Labour Party. Here's an excerpt from what Clive Lewis said: "Our route back to government begins with a recognition that the core question we face today is that of democracy. We must answer the demand for greater power and control in people's lives not only by providing the material means by which people can live better – from higher pay to public services that work – but by transforming the institutions under which we all live, from Parliament to local authorities to how our businesses are run. And by working with others today, we can show how in government we can meet the demands of our people for a fundamental change in how our country is run and how their lives are governed." He argues for proportional representation, lowering of the voting age to 16, regional government and greater power and resources for local government. Labour in Wales and Scotland should be fully independent. Crucially, he wants to see a move away from Labour's tribalism and a much more collaborative style of politics. Let's hope that those ideas aren't lost and that each of the remaining contestants pick up on his ideas.
Celebrating International Women's Day with Hannah
It was great to see so many railway companies celebrating International Women's Day last Sunday. LNER re-branded a train as 'The Flying Scotswoman' and Arriva Rail London, Network Rail, South Eastern and many others did their own thing to promote and support women n rail.
In Bolton, were treated to a great one-woman play on Hannah Mitchell, the socialist, feminist and local politician whose autobiography The Hard Way Up remains a classic. The play was written and performed by Eileen Murphy who kept the audience absolutely enthralled. Hannah had a hard and difficult life, particularly as a girl growing up on a farm on the hills above Glossop in the 1880s. She moved to 'down town' Glossop, then to Bolton where she became involved in the fledgling Independent Labour Party, where she met her future husband. She was active in the women's suffrage movement. In her later years in Manchester she became a councillor – I think for the Independent Labour Party, rather than Labour itself. She had just two weeks of formal schooling but became a talented writer. Her dialect sketches for Labour's Northern Voice, published during the 1920s, probably did more to persuade people to become socialists than any more pompous speeches. Incidentally, the Hannah Mitchell Foundation is reviving, after a few years of quiet reflection. An open meeting will be held once the current corona cris is resolved.
Don't miss out on The New Issue 2!
The second edition of The New Issue – from the people who bring you Big Issue North – is now winging itself to existing subscribers – and new readers can buy it from our online shop. The New Issue contains real stories – beautifully told. It offers stunning photography combined with quality writing, covering everything from changing landscapes and social issues to lifestyle and fiction.
The 80-page magazine, printed on high quality stock, is a publication for good, dedicating all its profits to creating opportunities for people who have the least.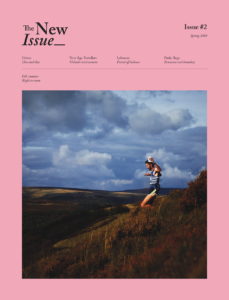 All profits from The New Issue go to supporting vendors of Big Issue North, helping them overcome barriers to employment and find secure accommodation.
The new edition contains reportage and brilliant photography from Lebanon, where discontent with the economy has spilled out on to the streets but where moments of humanity are brighter than ever. It features the exuberant competitors of the British relay fell running championships, and the young grime artists of Blackpool (also featured on page 12) moving on from dissing each other to mutual support.
With the new government still only in its infancy, the magazine goes back to Workington, whose men, if not perhaps its women, took on huge significance in the general election. There's a rare glimpse inside the vehicles of a New Age Travellers camp and confirmation, through a group of refugees, that one of humankind's many common denominators is the love of eating things in some sort of pastry filling. Full details here: https://www.bigissuenorth.com/our-work/our-news/2020/02/a-publication-for-good/
The Train's Long Gone: in the tracks of Driver Shorrock
After our afternoon of culture and politics we just had time to have a mooch round the remarkably visible remains of Ringley Road station, on the former Clifton Junction to Bury line, which closed in 1970. It opened in 1846 as the southern tip of the East Lancashire Railway. The line connected the North-East Lancashire 'cotton towns' of Accrington and Haslingden with Manchester, joining the Lancashire and Yorkshire Railway at Clifton Junction.
Shortly after opening, it was the scene of an epic 'battle' over running rights between the two companies, which involved the line being blockaded by rival companies' trains. Peace was fairly quickly restored and the line was absorbed by the Lancashire and Yorkshire Railway in 1859. It was an important route from Manchester to the thriving industrial centres of Accrington, Burnley, Nelson and Colne. On of the most famous trains to grace the Lancashire and Yorkshire Railway was the iconic 4.25 pm Salford to Colne, one of the early L&Y 'commuter' trains, consisting of 10 coaches, mostly occupied by first class season ticket holders whose business would have been on the Manchester Cotton Exchange, which was easily walkable from Salford station.
It was first stop Burnley Barracks, but 'slipped' a coach whilst sneaking round the tight curve at Accrington.
What a job for the guard that must have been! The running time from Salford to Burnley was 49 minutes, which I suspect you would struggle to do that by any form of transport today.  The train was entrusted to nothing bigger than one of Aspinall's sturdy 2-4-2 'Radial Tanks' built at Horwich from the 1880s. It was Agecroft shed's no. 1 'job' and was entrusted to the care of the redoubtable Driver Shorrock and three colleagues who knew how to extract every ounce of power out of their engine up the steep gradients from Clifton Junction and then north of Bury. The job was the preserve of a small fleet of three 'Radial Tanks' which were kept in top condition for this job. No. 1532 seems to have been the favourite. Eric Mason, shedmaster at Agecroft for many years and author of The Lancashire and Yorkshire Railway in the 20th Century, described Shorrock as "one of the most skilful exponents of engine management of his day". He also called the route of the 4.25 as "one of the most difficult lengths of railway in the country," climbing to a height of 771 ft. At Baxenden and then dropping at a 1 in 44 gradient to Accrington, where drivers had to negotiate the 5 mph slack round the curve onto the 'main line' to Rose Grove. The 4.25 featured in the columns of The Railway Magazine during 1922, with the eminent author and train-timer Cecil J. Allen waxing lyrical at Shorrock's exploits.
A Footplate Ride on the 4.25
C.J. Allen edited a regular column on 'Locomotive Practice and Performance' in The Railway Magazine during the inter-war years. The December 1922 edition (a copy of which happens to be in my possession, as he might have said) was devoted largely to train running on the ex-Lancashire Yorkshire section of what had recently become the 'B' Division (huh) of the London and North Western Railway.
Allen is unstinting in his praise of the work of the four Agecroft top-link drivers whom he timed on the 4.25 – Shorrock, Blakemore, Turner and Clough. He was permitted a footplate pass on a run driven by Shorrock, with the standard 10 coaches totalling over 250 tons. A huge load for such a diminutive loco. For those readers of The Salvo familiar with the workings of a steam locomotive, his description of the Radial Tank's performance is quite htrilling – and astonishing. Allen makes it very clear that this was locomotive working of the highest order that copuld be exprienced anywhere on the British railway network. Let him speak for himself.
He was an experienced observer of footplate working but described the run as "one of the most fascinating experiences of its kind within my recollection. Any observer who is privileged to occupy the footplate of an express engine when it is being worked under onerous conditions is bound to realise the exact science that lies behind driving and firing; but in a case like this, where a small-boilered engine is being pushed practically to the limit of her capacity for producing steam, and the slightest error of judgement on the part of the fireman in 'placing' his fuel, or of the driver in his method of utlising steam produced, may result in lack of steam at the critical moment, and in loss of time, or even 'stalling' of the engine over grades such as these – locomotive management becomes a job for thorough experts only."
Allen was asked to sit in the fireman's seat as the train prepared to depart.
Fireman Gough wouldn't have any time to sit down until the train had breasted Baxenden Summit, twenty miles north. Shorrock had a poor road out of Salford, with adverse signals at Windsor Bridge (now 'Salford Crescent'). Then, after leaving the Bolton line at Clifton Junction "Shorrcok threw his regulator right over, and at something between 40 and 45% cut-of we ascended the 1 in 96 to Ringley Road in fine style, the last three-quarters of a mile being run steadily at 32.7 mph. Steam pressure at the summit was 165 lbs per sq.inch." The line dips slightly from here towards Bury, after which climbing began in earnest at Summerseat where "Shorrock advanced his cut-off to 50% and again threw the regulator wide, in preparation for the final climb. The effect of this was to advance our speed from 34 mph to 37 at Stubbins Junction, where cut-off was further and finally advanced to 55%." The sound of the 'Radial Tank' hitting the climb at such a speed on so advanced a valve gear setting must have been volcanic. Speed was maintained up the gruelling 1 in 78 climb, "the effect of Shorrock's conservation of energy was immediately seen in the magnificent ascent we made of the 1 in 78, mile after mile of which was mounted steadily at 29.4 mph…..a simply extraordinary achievement." As astonishing as Shorrock's achievement was that of his fireman, who was shovelling coal into the firebox at the rate of 50 lbs each mile, with a total effort of about 15 cwt. mostly shovelled between Salford and Baxenden.
An ignominious end
When the '4.25' ceased running I don't know; probably in the 30s. The route from Clifton Junction to Bury closed on December 5th 1966, to be followed later by the section north of Bury from Stubbins to Accrington and the branch to Rawtenstall and Bacup (with a residual service to Rawtenstall lingering into the early 70s). A disgrace bordering on the criminal that Bacup lost its trains. I travelled on one of the last trains on the weekend that Clifton Jc – Bury closed. The line was little-used by then and our diesel train (the first of the day) slipped and slid up the gradient from Clifton to Ringley Road and Radcliffe, at a much slower speed than '1532' achieved at the hands of Shorrock.
For many years the former trackbed was impassable and water-logged, and part was cut by the M62 motorway.
Going back a few days ago I was pleasantly surprised to see that much of it had been brought back into use as a footpath and cycle trail. Ringley Road station itself, at least the 'down' platform, has been restored with a couple of benches (not original!). Perhaps Driver Shorrock would have been pleased. What he would have made of the 'sculpture trail' that the line forms part of, who can say.
Community Rail and Sustainability
The annual community rail conference organised by the Department for Transport with ACoRP was in Bristol this year. The central theme was around 'sustainability' and we had time to kick around the implications of this key issue for 'community rail'. It's something that ACoRP's chief executive, Jools Townsend, feels passionate about and recognising the full implications of what 'sustainability' means remains a key issue and challenge. I was invited to give a paper on 'community rail and sustainability' and the gist of it is what follows below:
It's easy to forget how far we've come since those early days of 'community rail' back in the mid-90s. Remember when:
Car was still king with no pretenders to the throne
There were on-going worries over the future of rail network
'Community Rail' was seen by some as a crank thing
Diesel traction was supreme in most of UK
'The Environment' was a fringe issue
'Sustainability' meant 'financial viability'
Climate Change was unheard of (to most of us)
A lot has changed. It's no longer a fringe issue to challenge the supremacy of the car.
Young people in particular are looking for alternatives. 'Modal shift' is seen as a desirable objective and this goes beyond party political lines. And when did we last see a passenger rail closure? The rail network is safe, and expanding! The big problem is lack of capacity and the need to expand.
'Community Rail' as a concept is embedded in rail industry and government thinking. There's recognition that linking rail with community-based strategies for regeneration and social inclusion makes commercial, social and environmental sense. 'Sustainability' is now centre stage, in its broadest sense. And there's a recognition, maybe belatedly, that 'Climate Change' is here, to most of us.
For community rail, there are some big implications of this shift. The days when we had to play it safe and avoid pressing for investment in case it scared off the powers-that-be are gone. We need to make the case for more capacity, whether it's more trains, extra capacity on existing routes and new stations, or new railways. But we shouldn't neglect the day job. Encouraging use of trains and buses, and reducing car dependency, is our fundamental purpose.
For community rail groups, everything you do is important, but maybe some of it is particularly vital. In particular:
Changing mindsets – making rail attractive
Getting them young: learn from the great work being done with schools amongst several CRPs across the country – a plug here for Community Rail Lancashire!
Developing practical integrated links: bus, bike, walk
There's much more to do in terms of station development. It's god that 'station travel plans' are being revived but we should avoid the box-ticking exercise which characterised some of the STPs last time round. The publication of ACoRP's report is vey timely. Personally, I'd rather see them described as 'station development plans' where the whole function of the station – and its surrounding hinterland – forms part of the plan. So West Midlands' Trains ideas for 'stations as places' are very welcome. We need to ask:
What is the function of the modern station (large, medium, small)?
What goes on around it?
Where do people live and work?
How do they get to/from the station?
What should go on at and around the station that helps create an attractive, vibrant hub for communities?
We must come up with some visionary ideas, working with communities, local authorities, developers and businesses.  We must get away from the basic, functional idea of 'the station' and look at ways of making them amazing places. Yes, a lot of this is beyond what a CRP can do, but the reality – at present – is that most of what we do is about influencing, changing people's ways of thinking. We can effect change, through consensus building, but we need to have the skills to do that. We need to develop high-level skills in effecting sustainable development. It means identifying the key decision-makers and building alliances. We need to win over the doubters, and marginalise those whom we'll never persuade. You'll find friends in unexpected places, whilst some whom you might hope would be on your side will have other priorities. Being clear on what you're trying to achieve is key. Be ambitious but not utopian.  Decide what you are trying to achieve… but be responsive to others' agendas. Look at the way in which 'loneliness' has shot up the Government agenda. Look at how the issue of medium and large towns has become central to Government thinking. We can help with the solutions. Get in there.
Harping on about narrowly-focused railway issues won't be of interest. Throw out the Ian Allan ABC (or modern-day equivalents). Learn new 'languages' in regeneration, sustainability, cohesion. Develop a strategy for change and learn the 'soft' skills of effective campaigning. Avoid appearing too earnest and confrontational – but have an agenda and know what you want. Don't play the 'political' game – be relentlessly non-partisan. And to repeat, be aware, and respond to, others' agendas. Intelligent use of the media is so important, both print and social media.
But you need a physical presence as well. Prioritise events that offer opportunities for networking and influencing. Be seen around…become part of the furniture. People will see you as 'folk who know what they're talking about'.
It's also about doing what you're good at – and enjoy. Attract positive, creative people, avoid negativity and those who go round in a perpetual state of gloom and despondency. They won't achieve anything, other than making others depressed as well. When recruiting new people, be willing to bend to their interests and passions. Don't be slaves to 'The Plan'!
We should spend more time celebrating success – but be frank and honest about learning from failures. Community rail has huge growth potential. When we formed ACoRP in the late 1990s we didn't think we'd be so successful, with some 70 CRPs now in existence and hundreds of station groups. That resource can be used to change how our communities work, for the better. To paraphrase Dr Marx, the point isn't just to gaze at the world, but to change it. But to succeed we need to get out there and engage.
Thank you.
The Rail Reform Group and the Enterprising Railway
If you're interested in exploring how a modern, entrepreneurial railway for the North might work, come along to the Rail Reform Group's first open meeting, on Thursday March 19th. It's at the Waldorf pub near Piccadilly station starting at 18.00h. Admission is free, just turn up.
Speakers will include Chris Kimberley, Nicola Forsdyke and Laurence Hilland. Each will explore different aspects of how railways can become more entrepreneurial and customer-focused. Admission is free and doors open at 18.00. The Rail Reform Group is a small network of rail professionals. We are non-party political and not linked to any corporate group. We've come together to develop ideas that we think are deliverable, offer good value for money and lay the foundations for a growing railway that meets the needs of both passengers and employees. We have submitted detailed suggestions to the Rail Review chaired by Keith Williams and the short article below represents a summary of 'work in progress': comments welcome.
Bolton Community Update: dizzy with success? (cf J. Stalin)
We are doing pretty well. After winning accreditation for the community rail partnership and getting funding from Northern, a very welcome cheque from CrossCountry came through the door. So basically, we're all geared up to start the recruitment process for a full-time worker to support Bolton and South Lancs Community Rail Partnership.
The advert is below. Why not have a try? On the down side, the corona virus situation has forced us to limit activities for the duration. We'll do as much as we can by email. Hopefully work will continue on the upstairs renovation, with a completion date of May 18th. Once finished we'll throw a party to celebrate. We're also looking to do what we think is the first 'Community Rail Mela' – an Asian-inspired community festival at the station and interchange. Hopefully sometime in June. Watch this space.
Community Rail Development Officer Post – £26,317 p.a. (full time 2 year contract, 35 hrs per week)
The Bolton and South Lancashire CRP is one of the newest community rail partnerships (CRPs) in the UK, formed in 2019. We are looking for a Community Rail Development Officer to take forward our ambitious plans to link local communities with the local railway network through creative projects that promote sustainable transport.
We are developing strong links with socially excluded communities within our area (stretching from Bolton to Manchester and Salford, Wigan and Preston) with positive relationships with local authorities and the rail industry.
We are looking for someone with a range of skills and experience who can work flexibly, with a mix of volunteers and professional colleagues. We welcome applicants with backgrounds in arts, community development, regeneration and related fields. We welcome job shares, and applications from all sections of the community.
For an application pack email Paul Salveson, chair of the community rail partnership: paul.salveson@myphone.coop. Deadline for applications is April 3rd 2020 with interviews on April 22nd. See also: https://www.boltoncommunityrail.org.uk/wp-content/uploads/2020/03/Bolton-and-SL-CRP-Job-Pack-07032020.docx
'The Works' is agate     
My first (hopefully not the last) novel is set around the Lancashire town of Horwich, in the former railway engineering factory where I worked for a short time in the mid-70s. Much of the action takes place in the 1970s and 80s but the story is taken through to 2025, with China looming large in the UK economy. It's about life in a factory facing up to closure – the tensions and fears of being made redundant, as well as everyday life in a working class community.
The narrator is a trade union activist – with a secret. It's partly a love story about his relationship with an office worker, Midge, who becomes involved in local politics and nearly gets elected as a Labour MP.
In 'real life' the Works closed in 1983 and is now being demolished. In the novel, the factory is saved by a workers' occupation and buy-out, with some dramatic scenes where riot police try to break the occupation. The novel links the fictitious outcome at Horwich with the actual occupation and buy-out at Upper Clyde Shipbuilders, Glasgow. The novel is illustrated with photographs of the Works in the early 1980s which I took as part of a commission from Lancashire Association of Trades Councils, during the campaign to save the Works.
The story has a lot to say about local life and politics in the 1970s and 80s and Midge's role as a community activist and councillor. Part of the story is about Horwich starting to build steam locomotives once again – for the heritage railway market – as well as making modern rolling stock. Lovers of L&Y 'Highflyers' please note.
There's lots of surprises so I won't spoil it for you. It contains strong language – and some Lancashire dialect. There will be a number of book launches around Horwich and Bolton in late March and April. If you want to secure an advance, signed, copy at the special price of £10, fill in the form below. If your community group would like a talk on the novel please contact me at the address below or email paul.salveson@myphone.coop. All orders must be paid in advance and received before March 21st.
———————————————————————–
THE WORKS       SPECIAL PRE-PUBLICATION OFFER : ORDER FORM
Name…………………………………………………………….
Address……………………………………………………………………………..Post code……………………………………………Phone……………………………
Email…………………………………………….(for notice of book signings and updates)
Please send….copy/ies of The Works to the above address. At the special price of £10 plus £2.50 post and packing. The novel will be available from March 26th in bookshops and other outlets price £12.99. If you live within 5 miles of Horwich I can deliver without the extra £2.50 charge.
I enclose a cheque for £…….. made to 'Paul Salveson'. Please add £2.50 for postage (regardless of number of copies ordered) unless you're local! The book will be posted to you before March 26th. Would you like it signing/dedicating? If to someone else, give details:
Post to: Paul Salveson, 109 Harpers Lane, Bolton BL1 6HU or email this form to paul.salveson@myphone.coop and use bank transfer to A/C of Paul Salveson, National Westminster Bank  Code 53-61-07 account 23448954 with your surname for reference
………………………………………………………………………..
Special Traffic Notices: Coming Events
Saturday March 14th:                      Lancashire Authors Association AGM, St Mary's Church, Chorley
Thursday March 19th                      Rail Reform Group 'The Enterprising Railway' 18.00 The Waldorf, Manchester (free event, collection)
Friday March 20th                             Launch of The Works Wayoh Brewery,  nr. Blackrod Station 18.00
Saturday March 21st:                       Cumbrian Railways Assocation, Penrith.
Friday March 27th                             Talk on Horwich Works and the novel, Bolton Socialist Club, 16 Wood Street, Bolton 20.00
Tuesday April 14th                                           Horwich Heritage: Talk on 'Railways and Literature in Lancashire'
Saturday April 18th                           Horwich Library, 13.00: 'Horwich Loco Works' in Art, Literature and History
………………………………………………………………………………..
The Salvo Publications List  – see www.lancashireloominary.co.uk
The Settle-Carlisle Railway (2019) published by Crowood and available in reputable, and possibly some disreputable, bookshops price £24.
It's a general history of the railway, bringing it up to date. It includes a chapter on the author's time as a goods guard on the line, when he was based at Blackburn in the 1970s. The book includes a guide to the line, from Leeds to Carlisle. Some previously-unused sources helped to give the book a stronger 'social' dimension, including the columns of the LMS staff magazine in the 1920s. ISBN 978-1-78500-637-1
The following are all available from The Salvo Publishing HQ, here at 109 Harpers Lane, Bolton BL1 6HU. Cheques should be made out to 'Paul Salveson' though you can send cash if you like but don't expect any change. Bottles of whisky, old bound volumes of Railway Magazine, number-plates etc. by negotiation.
'Lancashire's Romantic Radical – the life and writings of Allen Clarke/Teddy Ashton' (2009). The story of Lancashire's errant genius – cyclist, philosopher, unsuccessful politician, amazingly popular dialect writer. Normal Price £15  – can now offer it for £10 with free postage. There are a few hardback versions left – Normal price £25  – now at £15 with free postage. This book outlines the life and writings of one of Lancashire's most prolific – and interesting – writers. Allen Clarke (1863-1935) was the son of mill workers and began work in the mill himself at the age of 11. He became a much-loved writer and an early pioneer of the socialist movement. He wrote in Lancashire dialect as 'Teddy Ashton;' and his sketches sold by the thousand. He was a keen cyclist and rambler; his books on the Lancashire countryside – 'Windmill Land' and 'Moorlands and Memories' are wonderful mixtures of history, landscape and philosophy.
'With Walt Whitman in Bolton – Lancashire's Links to Walt Whitman'. This charts the remarkable story of Bolton's long-lasting links to America's great poet. Price £10.00 including post and packing. New bi-centennial edition published in May 2019. Bolton's links with the great American poet Walt Whitman make up one of the most fascinating footnotes in literary history. From the 1880s a small group of Boltonians began a correspondence with Whitman and two (John Johnston and J W Wallace) visited the poet in America. Each year on Whitman's birthday (May 31) the Bolton group threw a party to celebrate his memory, with poems, lectures and passing round a loving cup of spiced claret. Each wore a sprig of lilac in Whitman's memory. The group were close to the founders of the ILP – Keir Hardie, Bruce and Katharine Bruce Glasier and Robert Blatchford. The links with Whitman lovers in the USA continue to this day.
'Northern Rail Heritage'. A short introduction to the social history of the North's railways. Price £6.00. The North ushered in the railway age  with the Stockton and Darlington in 1825 followed by the Liverpool and Manchester in 1830. But too often the story of the people who worked on the railways has been ignored. This booklet outlines the social history of railways in the North. It includes the growth of railways in the 19th century, railways in the two world wars, the general strike and the impact of Beeching.
'Will Yo' Come O' Sunday Mornin? The Winter Hill Mass Trespass of 1896′. The story of Lancashire's Winter Hill Trespass of 1896. 10,000 people marched over Winter Hill to reclaim a right of way. Price: £5.00 (not many left). The Kinder Scout Mass Trespass of 1932 was by no means the first attempt by working class people to reclaim the countryside. Probably the biggest-ever rights of way struggle took place on the moors above Bolton in 1896, with three successive weekends of huge demonstrations to reclaim a blocked path. Over 12,000 took part in the biggest march. The demonstrations were led by a coalition of socialists and radical liberals and Allen Clarke (see above!) wrote a great song about the events – 'Will Yo' Come O' Sunday Mornin'?' Only a couple left.
You can probably get a better idea from going to my website: http://www.lancashireloominary.co.uk